Mayron:
I have some great news to share. My high school senior, Melissa M., who has been with me since my first summer of teaching your method in my garage, was given a Baylor Piano Scholarship last Thursday night. She started with "Tap! Tappey! Tap! Tap!" ten years ago. She completed every book of yours before I moved her into more advanced music. I have three others just like her who will graduate in the next three years. All have an interest in Baylor and possible scholarships. Just another testimony for group instruction, your piano method, and my teaching. My Baylor professors are well aware of the way I have taught and the methods I have used. Too cool, eh?

Donya Easterly
Easterly Music Studio
Friendswood, Texas
---
Mayron:
I just wanted to let you know that sometime while I was out last week for TMEA, my books arrived here at Amarillo! I just have to let you know that I love the new "spiral bound" of the 1A books. I hope that is a permanant change. I think it will eliminate a lot of the problems I've been having with pages coming out. I've totally "re-bound" the first books bought a couple years ago already, because of the massive use and the pages falling out.
I also want to comment on how great your service is! Out of all the books and orders we've placed so far....we have not had ONE MISTAKE in what we've received. Our order has always been sent exactly as ordered!! WAY TO GO!!!
Keep up the good work! I still just love the books -- and the kids do too!!
Tonjia W.
Carver Academy Piano Lab
---
Hi Mayron,
Just wanted to let you know that my recital is in May, and we are getting ready. I still thought, until last year, that I had to give my students pieces out of other books or sheet music for recitals. When we were preparing a recital just for you, we did all of your music to honor you. Well, it was a wonderful recital and I had more students this school year than I have ever had. So in this upcoming recital we are doing your music again. My students haven't lost valuable time in their progress of learning since we are still advancing in your method books, and they are playing music on their level for the recital and doing a great job of it, too. Well, it only took me about 10 years to figure this out! Thanks again, Mayron, for all that you have done and continue to do.
–Tanya Ulsh
TX
www.teachingpiano.com
---
Hi, Mayron,
Just a quick note. I received the 7A and 7B solo books. Have you written Level 7 student books with theory, etc.? I am so spoiled with your Level 1 through Level 6, I am suffering withdrawal at the thought that I will have no more of your books to use with my continuing students. I have seven eighth graders this spring who have been with me (and your books) since 2nd grade. If you have not written Level 7 theory, do you have a theory guide or series that you recommend--that would take off where you left off with your Level 6 theory? Your theory materials are life-savers for me with the students who enter the IMTA Piano Auditions. My students always scored in the 90% or above range on the theory exams.
I have several aspiring composers--any tips on books or guides that I could use to help them? At this point, I'm "playing it by ear" (no pun intended!) and just helping them with compositional form and guiding their original ideas. Several of my students have won awards at the state level in MTNA Composition Competition and in the PTA sponsored "Reflections" contests, so I really want to encourage each student who has this creative spirit. I have one little girls who comes in just about every week with a new idea for a piece.
– Look forward to hearing from you,
Beth Z.
Iowa
---
Dear Mayron,
I wanted to send you my appreciation for your method books. I started a Menehune Class last year, and this year I'm teaching two Level 1-A classes and three Level 1-B classes. The students, parents, and I just love it. I've been teaching the Blast Off course as a "before school" class at the elementary school where I teach. They've enjoyed it, too. We are having so much fun! We did a composing recital in October where I had the students write their own Halloween songs. (We called it the "D-Composer Recital). My students who are studying using your piano method did far better at composing. Their rhythms were awesome! They were so creative and felt comfortable using the entire keyboard. I couldn't believe the difference. You are such a talented lady and I really appreciate your sharing that talent. I hope you'll come to Utah for one of your workshops next year. There's lots of us here singing your praises.
– Keep up the great work!
Denise T.
---
We have started rehearsals on Cinderella. We have a large cast with many ballroom dancers and many extra mice who dance. We have made minor changes to accomodate for a large cast. We have added the Mouseketeers, who are leaders of the mice and form a sort of pop group like Diana Ross and the Supremes. They are each in charge or two little mice to teach them the dances. We will have a large ballroom scene with elaborate gowns and the boys in suits. We were able to rent a newly restored historical theater in town with state-of-the art technology. We are getting ready to work on sets. This will be a huge deal. We will have newspaper releases. I will send them to you as they are released. Just want to let you know how excited we are. There are 95 people including tech crew involved in this. Also, we are having t-shirts made for the kids to wear as a souvenir.
– Ruth Cooney,
Garland ISD

---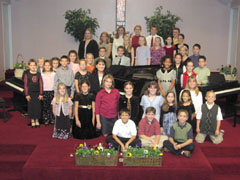 Dear Mayron and Bill:

I want you to look at all the happy smiling faces in the group photo and get satisfaction in knowing that each child began with your Blast Off with Piano and are learning to read and enjoy music using your wonderfully practical beginner books. Notice that the teacher has a big smile, too! I can't thank you and Bill enough for all the inspiration and valuable information I got from your teacher's manual and seminar back in 1995. Starting beginners in group lessons has worked wonderfully for me and I wouldn't have done it had you not blazed the trail and shared your expertise! Thank you, thank you. God bless you both!
Sincerely,
– Kim Carr
---
Dear Mayron and Bill,
Happy New Year to all. Our music just arrived--right in time for new classes! We just wanted to thank you for writing our favorite course, helping us to market it, and for sending music out in such a timely fashion. We appreciate you!
– Judith K.
Jeanne B.
Pennsylvania
---
Dear Ms. Cole:

Thank you for your wonderful website. I am a piano teacher and I am interested in teaching group piano lessons. Could you please tell me where I can read more about a sequencer and how it works together with the keyboards. Also, do you have courses for teachers who want to learn about group piano teaching in Australia?
Sincerely,
—Lily
Australia