Here's what our current and former students have to say!
Dear Mrs. Cole,

Thank you very much for your wonderful customer service.
My daughter really enjoys using the Mayron Cole piano method.

Thank you again.
Nancy
CA
---
Dear Mrs. Cole,

I was struggling with piano first of all. Then when my P. teacher told me I might not get to move to the next Level I said I am going to try to bring it up. She said alright. But now my life has gone up a step. Because I have moved to a different school and piano is doing better. I hate that I've left my friend but my P. teacher delievers (sic) notes (from my friend) so we can write back to each other. If you will please put my name or story in the Piano Explorer. Please. In the October, or November's. I,ve also got to have braces in Oct.
Your friend,
S. __
Mississipppi
My picture is on the back. Thank you for your books. Write back to me at ....
P. means Piano Teacher.
---
Dear Mrs. Cole,

I recently began to take piano lessons and I love it! I like how you make it fun by playing games and learning the keys and notes in interesting ways. My mom said all they did when she took piano lessons was practice, practice, practice. I'm glad I don't have to do that!
Without your fun and interesting ways I would have given up piano. I also like how we do piano lessons in groups. I've made many friends! I'm only on Level One so I haven't learned much, but what I have learned was very fun to learn. I just wrote to you to tell you how much I'm enjoying the lessons you came up with.

Sincerely,

Ashley __.
Raleigh, NC
---
Mayron,

I started playing the piano when I was four. I went from teacher to teacher (who had little patience with me, because I wanted to WRITE music, not read it) who presented me with boring music, and NO pictures. Obviously, pictures appeal to a younger child.

My mother then met Madeline Sykes (or Hayden, at the time). Madeline used the Mayron Cole Piano Method (some of the literature, I still have). I still wrote my own music, however, I was MUCH more interested in learning how to read with the theory games and the illustrated music that was large enough for me to see.

I'm now almost thirty, and my son is going to start taking piano pretty soon. I definitely know what method we're going to use!

Thank you SO much for the great teaching!

D. R. D.
Musician, Poet, Artist, Writer,
And Millwork/Construction Nerd

---
Dear Mrs. Cole,

I love piano I'm going to keep going I get nervous doing a resitle or playing at church, but when I finish I get an aplause I'm starting level 1B! Yeh!!! Your books are so fun! In one of the levels could you do, "Carrie K....," that's my name? I am 9 years old. I hope to become the piano at church.

Love your friend,
Carrie K......
---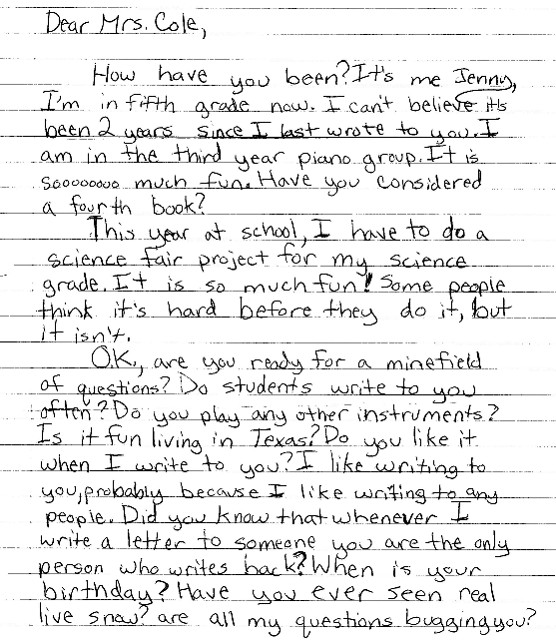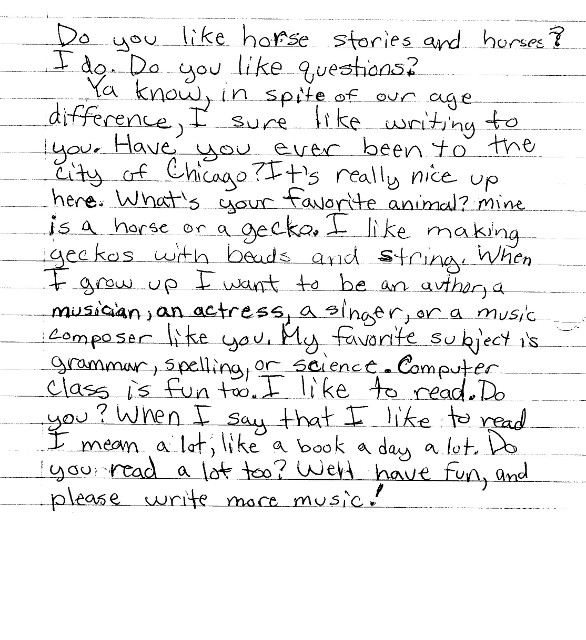 ---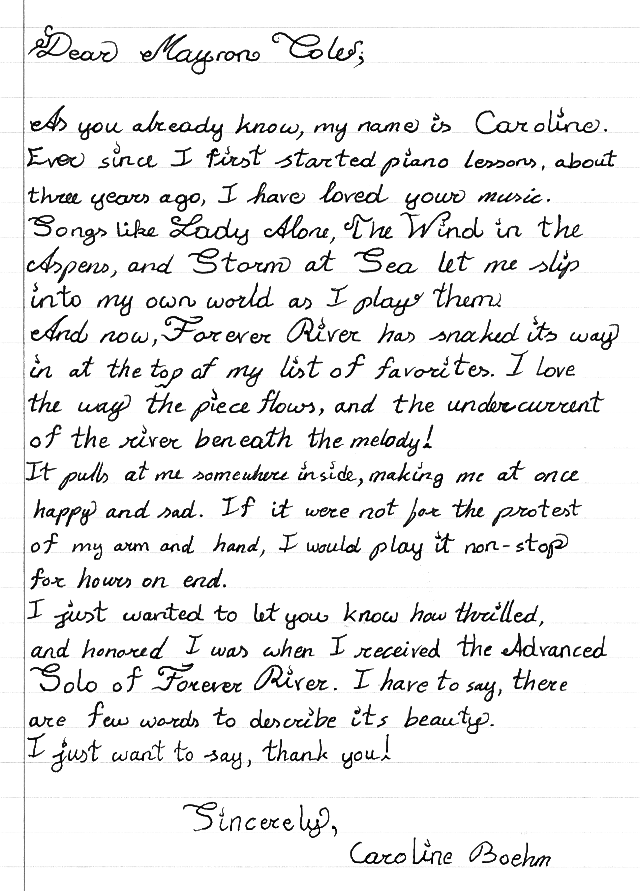 ---
Dear Mrs. Cole,
I love piano lessons. I'm nine and my piano teacher's name is Mr. Bilowus. He is very nice. He taught us a lot about the piano. I enjoy your music very much.
From,
Emma
Virginia

---
Dear Mrs. Cole,
I like 1-A because it's fun, funny and nice. We have fun. I love it. I have funny and nice friends. They can be exciting! I like school and music. My favorite songs are A Wedding Song and We wish You a Merry Christmas. You look very nice. Here's a song I made up with my class.
Love,
Lexi A.
Virginia

---
Dear Mrs. Cole,
I love your music. My favorite songs are London Bridge, Little Robin Redbreast, Old MacDonald, County Fair, and Brahm's Lullaby. Your songs are so cool. I could play them all.
Love,
Sierra K.
Texas

---
Dear Mrs. Cole,
I have taken my first piano lesson and it is awesome. Mrs. Jennings is really nice and fun. Thank you for this excellent workbook. Sorry I couldn't send you a picture of me, but I am ten years old. I am going to be in the fifth grade after summer. Well, please write me back and I hope you get this letter.
Alexis
Texas

---
Dear Mrs. Cole
Hi. Our names are Sarah and Hailey. We are both nine years old. We take piano lessons with Hailey's dad. We have been using your music for one year. We are in the beginning of Level 2-B now. Our favorite son in Level 2-B is The First Snowfall. We think all the songs sound beautiful. We always enjoy getting new songs every week.
The scales that we get from your book are fun, too. We have a question for you, too. How many kids use your music? Write back if you can.
From,
Sarah C.
Hailey M.
Massachusetts

---
Dear Mrs. Cole,
I'm in Level 3-A. I really love your music; it is very pleasant. I love to come home from school and just play it. I really enjoy playing flats and sharps. I really like how they sound! One thing that I would like to play more of is classical music like Surprise by Hayden, and the information (music history) on the side. I just wanted to let you know that your music is awesome and easy to understand with fun sheets. About the classical music, do you think you could maybe put an easier version of Sonata No. 1 in C by Mozart? If you could, I would be eternally grateful, but if you don't, thank you for Surprise!
Your student and fan,
Laura
Woodland Park, CO

---
Dear Mrs. Cole,
I have had an awesome time in Mrs. Tanya's piano class. I think she is the best piano teacher ever. She is really really nice.
One of my favorite pieces you wrote is Ellisa. I also like The Last Leaf, Skip to My Lou, and Katzen Dawgs.
Well, I have to go play my piano. I hope you can write back soon.
Your little friend,
Renee
New Braunfels, Texas

PS: I love your music.

---
Dear Mayron Cole,
My name is Lesley. I'm nine years old. I like Mrs. Stacy. I wish you would put a song about horses. I love horses. They are so cute.

Love,
Lesley
McKinney, Texas

---
Dear Mrs. Cole,
Your songs are wonderful. I am on Level 3-B right now. My parents encourage me to practice for at least thirty minutes each day. I would like to have more rhythm taps in the book. I am already on page 130 now, which is ½ of the book. I haven't seen one rhythm tap page yet. Where are they? What happened to them? To make this book better for future students, please add a few more rhythm taps to the Level 3-B book.

Sincerely,
Stephanie G.
Sacramento, CA

---
Dear Mrs. Mayron Cole,
I am writing you this letter from Texas. I am ten years old and in the fourth grade. I take piano lessons and love going to play the piano. Whenever I practice I think of how hard you have worked to make my piano music. I enjoy your music. The titles are so unique. Well, I love this level. For me it is easy to learn. Your games and puzzles are also fun. They help me understand piano better. Guess what level I'm on. Level 1-A. It's so neat. The drawings are also very interesting. Love them! Keep writing music. You're good at it. Hope you have a nice day.
Sincerely, yours,
Samantha C.
PS: Since you sign your initials everywhere, here's mine: SC.

---
Dear Mrs. Cole,
I am writing to you because the songs you have been writing for us are great but my favorite is Mary Had a Little Lamb but as you go on the songs get harder and harder but I'm OK with that because I want to be the best piano player there is and I just need fourteen more songs to go to be in Level 1-B. Write back soon.
From Ashley G.
Zapata, TX
---
Dear Mrs. Cole,
I am very good at piano lessons. I wish I could show you. My mom and I like the red book and the way you wrote it.
Love,
Mikaela
Florida
---
Dear Mayron Cole,
I am one of the students that love and enjoy your work. Your music is awesome. So far I am only in Level 3-A. This is my sister's and my third year being in piano. As far as I've gotten, Misty Lagoon is my favorite piece. It's to pretty. I've had so much fun playing your music. I also love your drawings. You are really good at it. Your drawings are beautiful. You should be an artist.
Jennifer M.
Newcomerstown, OH
---
Dear Mrs. Mayron Cole,
Hi. My name is Charlotte. I am eleven years old and I really like your music book a lot. I am so happy you made this book. You did a very good job on it. My favorite parts in the book are the hidden stories. They are so cool and fun. You make everything so fun.

Charlotte Z.
Crestview, FL

---
Mrs. Cole,
Thank you for making piano so fun and easy. I have had so much fun in my lessons. My teacher's name is Mr. Whitlow. He has helped a lot. I also have met lots of new friends. I just love your piano books. Well, got to go. Bye.
Your friend,
Emily O.
Rowlett, TX

---
Dear Mrs. Cole,
I love your lesson books. I've only done one. Well, not even one. I did not get to finish my piano lessons because I went to a new school. I like doing the lessons so at the school I go to now we have music--but I can't do piano there. I love doing the piano. I now teach myself with your lesson book.
Love,
Nikki
Kentucky
---
Dear Mrs. Cole,
I love your music. I am in Level 1-B. My favorite pieces are A Cowboy's Song, Little Robin Redbreast, The Viking, County Fair, Brahms Lullby, and Hot Potato Polka. My friends and I like to say "hot, hot, hot, hot" instead of the note counts "1-1-1-1" for Hot Potato Polka. Emily has brown hair and eyes. Hillary has blond hair, blue eyes, and glasses. They are in my piano class.
Lots of notes,
Ashlyn
Alabama
---
Dear Mrs. Cole,
I just wanted to say that I love the songs Colleen's Waltz and The Shadow Birds. Those are my absolute favorite songs so far. I've only gotten to Old McDonald. I've got a question: did you make-up all the songs (except for the classics and folk songs) for the book? I made-up a song and I'll send it to you. Oh, about my song – I was wondering if you could help me come up with a name.
Keep the music alive,
L. K.
Garland, Texas

---
Dear Mrs. Cole,
Your songs are a lot of fun to play. I have memorized a lot of them. I sure hope you will make a lot more of them.
Love,
C.D.M.
New London, WI

---
Dear Mrs. Cole,
I really like your piano method. I'm very glad you wrote it. Before I took your piano method, I took lessons using a different method book. It was so boring! The teacher was also very boring. He didn't sit me in the middle of the piano. Also, he played a note, then I played the same note. That was how we played songs. I never learned anything. I now take piano lessons with a great teacher. And with your method, lessons are fun! I sit in the middle of the piano. Also, I learn a new thing each Saturday. Because of the nice teacher and good method I now want to practice. Please keep on writing music.
Your piano student,
Marie G.
Florida
---
Dear Mayron Cole,
I like Level 1 very much because the music is really fun. At first I did not like playing the piano. But when I started to play your music I loved it. My piano teacher is very funny. I have three students in my class. Because of your music I am playing much harder music then my class because I have gone to my house and made-up a song. Write back soon.
Your friend,
Kelci C.
Texas
---
Dear Mrs. Cole,
I like your piano book. I am starting piano.

Love,
Emma T.
Duncanville, TX

---
Dear Mrs. Cole,
Thank you for making our piano books. Mr. Parker teaches our piano class. My name is Jessica. I'm in third grade. I can write in cursive. I just don't want to. I live in Texas. You make-up some good songs. Some are hard and some are easy. Once again, thank you for making our piano books.

Sincerely,
Jessica J.E.
Texas