Testimonals on Changing to Group Piano Lessons
Dear Mayron,
Your music continues to be the best.  My students , ages 4 to 84, really enjoy the songs and the ways you present concepts.  I do not need to remind them to practice. They pal whenever they can and enjoy learning. 
The larger print is good for all my students, young and old. They all have fun playing together: duets, ensembles, etc. 
Last year pupils requested (!) a "recital." We arranged for it and had about 60 residents attending. It was not my idea.   (I had said we would not have "recitals.") But, they wanted to play. 
Please continue your great work.   
Thank you,
Shirley Michel, PENNA.

I have been using the Mayron Cole method for about 15 years. I have taken several of Mayrons seminars. I am pleased with the music and the results I get. I use the method books and some of the ensemble pieces.
Bill has been helpful in getting my on line ordering going. Colleen is very pleasant on the phone and most of all thank you Mayron for the music you compose.
Doris Schneider
FL
---
Hi Mayron,
Thank you so very much for the information about the new Older Beginner Books. I look forward to reviewing them and using them in my studio.
I cannot say enough good things about your piano method. I frequently get transfer students and when I test them in regards to placement with a new piece of music, usually the first sentence is where do I put my hands. This gives me my first opportunity to explain why it is so important to read music. I sometimes have similar problems with students whose parents have taken piano lessons and want to "be helpful"with their child's practice. Although a positive thing not always done in the best way.
The parents of my students are amazed at the progress of their child and I do attribute much of it to your piano method. I am so grateful to have had the opportunity to meet you in person and take your workshops a number of years ago.
Sincerely,
Linda A. Kazmarek
MD
---
Colleen,
I dont know if I'm out of line or not but I proudly tell my clients that your method is the top method in the country.
Regards,
Michael

---
Colleen,
Thanks so much for keeping me informed about my order and being so available and willing to answer questions.  My studio has been up and going for about six weeks now and I have never had so much fun teaching.  My students have learned so much more in the last six weeks than my private students did in the three months. And I've learned more from watching Mayron's video and talking to you guys about teaching than I feel like I learned during my whole college career.  I am definitely more aware of how to present beginning material than I was three months ago.  I'm really excited about the long term possibilities that your method presents.  I'm particularly taken with Menehune.  It is perfect for my little boy class of seven and eight year olds.  I thought it might be too easy for them, but not at all.  The kids are working on Dark Forest this week and one of my students came up to me at church to tell me how well he could play it and how he had been practicing it a lot.  I think it is genius to spend more time on pre-reading so kids really internalize rhythm concepts and keyboard geography before the are presented with staff reading.  Just wanted you to know how pleased I am with your program and you and Mayron as people.  You are great! Thanks again.
Emily M.
ID
Emily,
Thank you so much for your sweet e-mail!  We wish you the best with your new group piano studio.  Please keep us posted on how things are going.  And of course, feel free to give us a call or send and e-mail if you have any questions.

Take Care.
Colleen
---
FACEBOOK: Lauren Windle Townsend I enjoyed using your method today with a private student who had been struggling for a while. I switched her to Mayron Cole over the Christmas break in hopes that it would help her practice more correctly at home. She came back from the break having correctly completed more fun sheets than I assigned, counting and re...ading the notes much better.

I am starting up with group classes this week after having done four "open house" piano demostrations since December. EVERY SINGLE person that came to one of my demos signed up for piano classes or Kindermusik. My studio has doubled since last week and the day is still young! I can't seem to even open up a new class before it is filled! I'm excited!
---
Dear Ms Cole:
I just attended my daughter's spring piano recital. My daughter is named M....., and she is 8 years old. I have been so delighted with her excitement and love for the piano this year. This was her first year, and she plans to take lessons for a very long time.
All year, piano has been a joy to M....... and a blessing in our home. M..... received the highest award possible (perfect practice, memorizing 10 songs, learning 15 additional songs) and was greatly self motivated and eager to practice her songs.
Thank you! Thank you! Thank you! The songs you wrote, the illustrations, and just the over-all style of your program is so amazing to me. You have really helped learning an instrument be a beautiful, fun experience rather that a "chore."
Also, I want you to know of our delight in Marie Lee, M......'s piano teacher. She has been amazing! She has high expectations yet is still loving and fun. The best word to describe her little piano studio would be "sunshine." Marie creates such a warm, fun, exciting environment.....I've never seen anything like it. I love to stay and watch because she's such a master teacher and just feel of the special feeling that is created in her home. It's truly like a bit of heaven.
I'm grateful how she teaches that it's okay to hit wrong keys on occasion, and it's all about the experience of playing the piano. That takes the stress out of trying for "perfection" (in a good way, of course) and leaves room for creativity. I think this really minimizes discouragement and frustration. I just wanted you to know what an excellent teacher she is!
Again, thank you for sharing your talents, love for the piano, art work, and "gift" with many others. We are so blessed because of you and Marie Lee.
Sincerely,
Ch....... J....
Nevada
---
Dear Teachers:
I've been using The Mayron Cole Piano Method since Sept. of 1990, switching from private to group lessons. With Mayron's help and guidance, I have become successful in gaining more students, enlarging my studio, and raising my own confidence and self-esteem. I also have had many teachers contact me and asking all kinds of questions about the piano method. Many of these teachers are now successful in teaching group piano. I can't say enough about the Mayron Cole Piano Method, and I get positive feed back from parents.
But one of my concerning thoughts is this: families move about the country more frequently today, and they have to find that new teacher – preferably one that uses The Mayron Cole Piano Method. When I'm asked about a referral, I advise them to call Mayron for a teacher – or log onto her website at www.mcpiano.com. Checking out the teachers' LINKS section on Mayron's website, I was surprised that not enough teachers are taking advantage of posting their studios for parents to find. Not every teacher is fortunate to gain students just from word of mouth, and it's costly to advertise. Mayron is giving the opportunity to each of us who use her piano method to also use her much-visited website to advertise free – and also help parents find that great Mayron Cole teacher in their area for their child.
We as teachers are obligated to give our students the best music education that we can, and the parents of our students expect no less than what we can deliver. Parents want what is best for their kids and they spend a lot of time searching for that one special teacher. Unfortunately, their resources are sometimes very limited and through the process of elimination, (and not to mention the frustration the student endures!) changing from one teacher to another compels them to quit lessons. When a parent finds a teacher, they spread the word for that teacher. And they'll spread the word for you! All you have to do is mention Mayron's website and – who knows – because your name and studio are on Mayron's link page, that parent may be calling you.
The larger the list of teachers, the easier it is to find a teacher in a particular area of the country. Help the parents and help yourself, too!
Musically,
Stell K.
Illinois
---
Dear Mayron,
After 4 years as a private teacher, I changed to your group format this fall. I found your curriculum in an internet search, while I was looking for ideas to inspire my students, (and me!) last spring. I could tell many of them were losing interest (I was getting bored myself!) and was already seeing shrinking enrollment and income on the horizon! After studying the curriculum and going to your workshop in Houston, I decided to take the plunge into group teaching. I kept a handful of advanced/motivated students in private lessons, converted the other 12 or so to groups, and offered only group classes for new students this Fall. It took a LOT of publicity. We did newspaper ads and my kids and I put out 700 flyers in a house to house canvas. I offered tuition coupons for new students, and a $20.00 tuition credit for any existing student who referred someone to me. I answered a TON of questions about "Why?" from parents who weren't sure this was a good idea. ("Now Mrs. Smith, little Tommy is able to learn his multiplication tables in a classroom environment, why wouldn't piano work the same way?") I purchased keyboards and converted my garage to a studio, with brightly painted walls and rainbow music notes everywhere. ( My teenaged son walked in as I was painting and asked "Mom" is this what a midlife crisis looks like?)
I started my Fall semester this week, using The Mayron Cole Method, and now I have to thank you for one of the most rewarding week of teaching piano I have ever experienced. The kids had a wonderful time. I had a wonderful time. The parents were thrilled, and "word of mouth" has already started the phone ringing. Two of my 6 year olds refused to leave after their first class!! (Their mom's took them both anyway protesting loudly) One of my 8 year olds said "Ms. Sherry when I grow up I want to have a bedroom that looks just like your studio, with lots of instruments and colors and stuff!) I am reenergized by the possibilities of group teaching.
With 4 group classes, I have already doubled my enrollment from last spring. I currently have a Menehune, Level 1-A, Older Beginner, and an Adult class. I plan to add 4 more classes as interest dictates. As a single Mom, I think this is a wonderful way to be available for my kids and still work and earn the income we need to survive. I have already quit my weekend job, and that alone has given me the gift of LOTS more time and energy for my kids.
THANK YOU! THANK YOU! THANK YOU! I so appreciate your creativity and dedication to your piano curriculum. I am looking forward to next summer's seminar already!!!
— Sherry G.
Music Instruction by Sherry
Fuquay-Varina, NC

---
Dear Mayron:
I have about 50 students again this year and teach only 3 days a week - less than 2 hours on one of those days! I do enjoy teaching this way so much. There is such a need for piano teachers in my small town; I could have more students, but, because I have two little ones (2 and 4 yrs.), this works out just great for our family. I so much prefer your method to anything else I've seen! And your accompaniment disks are great - so superior to other accompaniment CD's I've heard.
Thanks for all the work you put into your method!
Grace H.
Wisconsin
---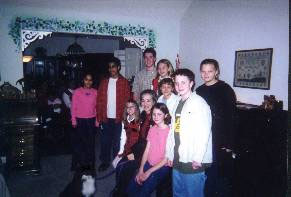 It has been my privilege for many years to include students in my studio who have special needs--disabilities because of vision problems, epilepsy, autism, cerebral palsy, and mental retardation. Because The Mayron Cole Piano Method is written in a clear, non-cluttered format with large print, this has been my preferred curriculum to help these children learn and read music.

Other methods present too much information too soon, but this method is a step-by-step, methodical approach that continually builds on material that has been previously presented. For this reason, students are able to retain the information better and build a strong musical foundation. The worksheets are a wonderful reinforcement of concepts, and we especially love all the board games that Mayron has created.

Because of this method, students who may not have had the opportunity to make music using other curriculums are now experiencing the joy of playing the piano for themselves. Mayron may never know how many lives she has touched through her hard work and dedication to bringing us the best!

Sarah Crouch
Cedar Hill, TX
shcrouch@aol.com
---
Only God knows how deeply grateful I am to Mayron Cole and her wonderful piano method. It has been the main source of my family's income for over fourteen years now, and I still have to pinch myself when I think about how awesome it is that I get to do this!
My daughter, Melanie, (who is now almost 29 years old!) began taking lessons from Mayron Cole when Melanie was 11 years old. I am a pianist and had taught some private piano lessons through the years and I must admit that I was very leery of the whole group piano concept. But because of Mayron Cole's appealing personality, I started Melanie taking piano with her. This began a five year musical relationship with Melanie. And Melanie loved taking piano from Mayron.
During that period of time, I was a single mother of three. Mayron began talking with me about becoming a group piano teacher myself. She had begun publishing her music and was teaching other teachers her wonderful piano teaching skills. I knew first-hand that her group piano method worked, so after much thought, research, and prayer, I opened my first group piano studio in September of 1988. I began teaching in my home with 18 students that I'd obtained through word-of-mouth. What a beginning!
The next two years, I taught at Northwest Academy in Houston, TX, where I had 40 students. The following year (fall of 1991) and ever year since I have had a piano studio in my home where I average 65 students per school year. I now teach five students at a time and I only work 3 hours a day on Monday, Tuesday and Thursday.
I cannot begin to tell you what a blessing this piano method has been in my life. I have had lots of students make it all the way through The Mayron Cole Piano Method. I have even had local public school music teachers call me asking about the piano method because they were so impressed with my students who were in their music classes at school.
I know that I have the gift of teaching and truly enjoy encouraging students and seeing them grasp the piano playing concept. But The Mayron Cole Piano Method has given me the tools with which to teach. In looking at other piano teaching methods on the market, there is nothing to compare with this piano method. Mayron Cole herself is a musical genius, and for that I am grateful. I consider it a priviledge to share in her genius.
– Madalyn Sykes
Houston, TX
billsykes@sbcglobal.net

---
I just wanted to let you know how much I LOVE the Mayron Cole Piano method! After attending Mayron's workshop 2 years ago, I began converting my private studio over to small groups of 4 students. The students love the lessons, & the change has totally recharged my studio! My students are becoming great readers, & great counters. The ensembles are such fun. After teaching private piano lessons for 25 years, I only wish I had attended the Mayron Cole workshop much, much sooner. I adore Mayron Cole & her method!
– Sincerely,
Joanne M. Barnaba
Jpianoshop@aol.com
---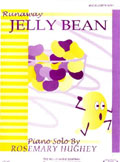 Christmas Eve, my first ever music came from the publisher in its published form. How exciting! Twinkle Toes was born. Two months later, a second was published, Runaway Jellybean. The publisher informed me that a third is soon to be published, Just Stompin' Around, and today I received a contract for First Dance, to be published soon. A lot of my inspirations come from a very delightful composer whose piano method I have used for 14 years. Let me fill you in.
I met a vivacious, lively piano teacher at a convention who was presenting her piano method books for the first time. I thought: If her music is as lively as this lady, I must listen. I heard Mayron Cole present her music books and decided that for the first time since graduation with a master's degree in 1986, I had finally found something that would work successfully with my students.
That was 14 years ago and this is the only method book that I have used continuously through these past years. It works! The students enjoy her creative music, and the progression of concepts (which are presented more than once!) is solid and logical. Thank you, Mayron, for all the inspiration you give us, for the music that is delightful and works, and for making it all fun.
— Love always,
Rosemary Hughey
Carrollton, Texas
---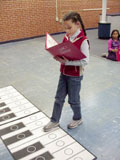 "The Mayron Cole Piano Method uses a very logical order of learning which makes it much easier for students to understand. What I like best about the method is the songs. They are easy enough for the students to play and build confidence, yet the music includes new concepts which challenge the students. Students like the books because the music is original and fun. The orchestrated accompaniments add to the mood and setting of the songs and give the music extra 'umph'! The Fun Sheets from the books are also unique and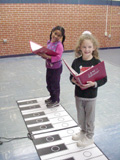 creative.
The teaching techniques that I learned from Mayron's summer seminar work great in my classroom. My piano classes go much smoother now, and the students are advancing at a faster pace. But most importantly, the students are developing a love for playing the piano."
— Tonjia Willis
Carver Elementary Academy Piano Lab
Amarillo, TX
---
Hi Mayron,
Just a note to share with you my miracle story.
My music education was completed as a young woman. I was then married and two children were born. My dreams were then put on hold as my children's growth and education was more important to me. The years passed and we watched our children become beautiful young women. One is a speech pathologist program manager in Tyler, Texas and the other owns the Rowlett Music Studio in Rowlett, Texas with approximately 285 students.
After 31 years of working in an office for someone else, I was forced to retire at the age of 55. Talk about depression city. I sat looking out the window and wondered what I was to do with the rest of my life. I could not afford to retire and where does one start over at that age? If you remember, my daughter called and visited with you about my situation and you said if I loved children and was enthusiastic I should think about opening my own studio. I began to review my music training and attended training classes in Rowlett, Dallas and Houston.
In September 1999, I had a dream. I began to clean out my workroom (about 500 sq. ft.) and by December of that year, with the help of my children, that room looked somewhat like a small studio. In November 1999, I placed a small ad in a monthly publication, "The Kids Directory." January 8, 2001, Carolyn's Keyboard Corner opened with 2 students. March 2001 the studio's enrollment was 31. May 2001 was recital month and 150 people were present.
The summer was upon me and I plunged into Blast Off classes. Three weeks in June and July I held these classes and picked up 25 new students. All along the phone has continued to ring and I enroll new students. One year later, January 2002, my count is 74 students.
The first semester was scary, but I plunged in like I knew what I was doing. When you are 55, you don't have a lot of time to waste. My teaching technique is getting stronger and I am thankful for this wonderful opportunity. Music can change lives. Music is a discipline in which the spirit can flourish.
Thanks Mayron for your support.
Carolyn Hamm
Carolyn's Keyboard Corner
Little Rock, Arkansas
chamm13@juno.com

---
"The Mayron Cole Piano Method's strongest point is that it enables teachers to make readers out of their students instead of rote players or memorizers. This method systematically teaches students to read music instead of fingering numbers! Mayron's method is helping me teach 6,7,and 8 year old kids to read and play without asking questions like "Where is C" or "What note is that?" Instead of spending hours trying to learn a piece that is far above their reading level, students are asked to read pieces that reinforce and challenge the skills they already possess. Students feel successful when they play these Mayron Cole pieces."
– Troy Barrington
Texas