"I'm happy I found the confidence to
start my group piano studio!"
Carolyn Hamm, Owner
Carolyn's Keyboard Corner Piano & Voice Studio
Little Rock, AR
chamm13@juno.com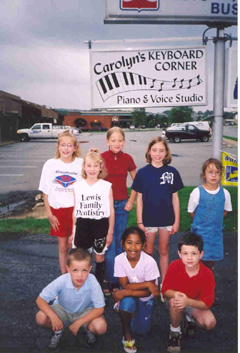 Some of Carolyn Hamm's students pose in front of her new commercial sign. Carolyn's group piano studio will be located in a shopping center in the fall.
I worked for a private foundation for seventeen years until one day I was forced into early retirement at the age of fifty-six. I was devastated! I went home and thought what am I going to do? I couldn't financially retire at that point in my life, but I didn't know how I could earn any money. That night, my daughter, Brenda Whitlow, called from Texas. She and her husband John own and run a large group piano studio in Rowlett, Texas. Brenda consoled me by reminding me that I had always wanted to start a piano studio of my own and now was the time to do it! She also prodded me by saying if I didn't do what I really wanted to do at this time, I'd always regret it!
"….sometimes you have to spend money to make money"
But I had big reservations and no confidence. Starting a group piano studio meant spending money, and this was not the time to spend money, I reasoned. But Brenda reminded me of the time when she wanted to open her Rowlett Studio several years ago. Her husband, John, also had reservations about the money such a studio would require—especially the money needed to buy multiple piano keyboards. But Brenda and John eventually decided sometimes you have to spend money to make money. The music school was so successful that her husband quit his job as band director at the local high school in order to teach group piano at their commercial-site studio. Now the Rowlett Piano Studio is one of the largest and most successful piano studios in Texas.
I drove down to Texas and observed group piano teaching at Brenda and John's facility. That summer, I also took Mayron Cole's group piano teaching training course. (Editor's Note: That seminar, "Teaching the Early Levels" is now available on video or DVD! Order on-line!) During the fall I worked on my group piano studio here at my home. There's always so much to be done when you are launching a new career and business! Brenda gave me some keyboards she and John were not using, and John built me a sturdy table to put the keyboards on. A friend here in Little Rock encouraged me to place an advertisement in The Kids' Directory (a local children's magazine). People started calling, and I sent out brochures about my group piano studio. Finally, in January of 2001, I opened my group piano studio for business. I had two beginner students. But by the end of February I had twenty-five students. And by the end of May I had thirty-two students! All of the students were being taught in groups, and all were really acting as if they enjoyed it. And the parents were thrilled with what I was doing with their children! I look back now and shudder at the thought of starting a studio without knowing any more than I did about group piano teaching. But I could write a book about the subject now! Confidence in anything comes with doing it!
"…the largest percentage of my students are beginners…"
I ended the second year, May 2002, with seventy-nine students. This year, I'm ending the school year with 120 students. I have grown and grown! It's overwhelming! I'm now getting ready to move my studio from my home into a shopping center area with high visibility. Hopefully, the studio will continue to grow even more! What has really been fun about all of this is the fact that I'm learning from my students! They've shown me what group teaching techniques work and what doesn't. I now have a few transfer students, but the largest percentage of my students are beginners—which are the best students of all. It's great starting their piano knowledge with a "clean slate". Transfer students are difficult to teach. There is so much remedial work to be done with them. That can get very frustrating.
Because of my studio's financial success, I've purchased all new Roland electronic pianos. The keyboards Brenda and John gave me are rented to students. I usually teach five students at a time, but one fall class will have six students. I follow Mayron's business manual guide and divided each student's school year tuition into ten equal payments. I mail invoices each month with an enclosed self-addressed envelope in which payments are returned. (I had the self-addressed envelopes printed at a print shop.) I teach five days a week, but only teach three hours on Friday. Next summer, I plan to only teach Blast Off With Piano!© classes.
I still run a monthly three-quarter page advertisement in Kids' Directory. It costs me $375 a month, but it's worth every penny. At least 80% of my students have come to me because of that ad.
"….each student's lesson time is being increase"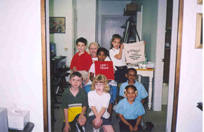 Carolyn Hamm (center back row) smiles at the success of her group piano studio.
It's been only two and half years since I opened my studio, and I can happily announce that my earnings have far surpassed my income from my previous job working for that private foundation. I have now opened a great computer lab in my studio with the purchase of eight computers! This fall, each student's lesson time is being increased to an hour each week. Ten students will arrive at a time—five will go to the piano lab and five will go to the computer lab. My husband (who is now retired) monitors the computer lab. The students work on computer programs such as Music Ace 1 and 2, Hearing Expedition, Piano Mouse, and Play Music. The Play Music computer program is great with older students. It is an entry level music notation software package. After the kids learn to write compositions they get to print them out and take their music home.
My e-mail address, chamm13@juno.com , is noted in my studio information on Mayron's "Links" page on her website. Last year I received an e-mail from Teacher X (I truly can't remember her name or where she was from). She said that she was teaching only seven students private piano lessons and was about to give up on her piano teaching career due to lack of income. But she wanted to know two things: (1) was The Mayron Cole Piano Method truly as good as all the accolades she was reading on the www.mcpiano.com website; or, (2) was Mayron Cole the world's greatest salesperson ever in getting people to think her piano method was so good? I e-mailed her back and said: (1) yes, all the great tributes to The Mayron Cole Piano Method were true and that Mayron's piano method had built for me a great business that was paying me handsomely; and (2) yes, Mayron was also a great salesperson. Teacher X then e-mailed me again and said that, after a lot of thought, she didn't want to "lower her teaching standards" by teaching piano in groups. I promptly e-mailed her and said that it appeared to me that her "high" private lesson teaching standards had attracted only seven students—and that it might be a shot in the arm for her studio if she tried a different teaching approach. Children have many exciting group activities from which to choose nowadays, I reminded her, and a boring piano teacher will starve to death if she doesn't revamp her teaching style. I never heard from Teacher X again! But I don't consider group piano teaching a "lowering" of teaching standards. My students are being beautifully taught! And they love coming here! They come through the door laughing and ready to play the piano—and ready to share their day with me. I love being with them—they are so exuberant! And I am truly happy that I found the confidence to start my group piano studio.